Paris Cathedral Fund Accounts
2020 accounts
Approved by the Board of Directors of the Fondation Notre Dame on 3 June 2021.
2019 accounts
Approved by the Board of Directors of the Fondation Notre Dame on 5 June 2020.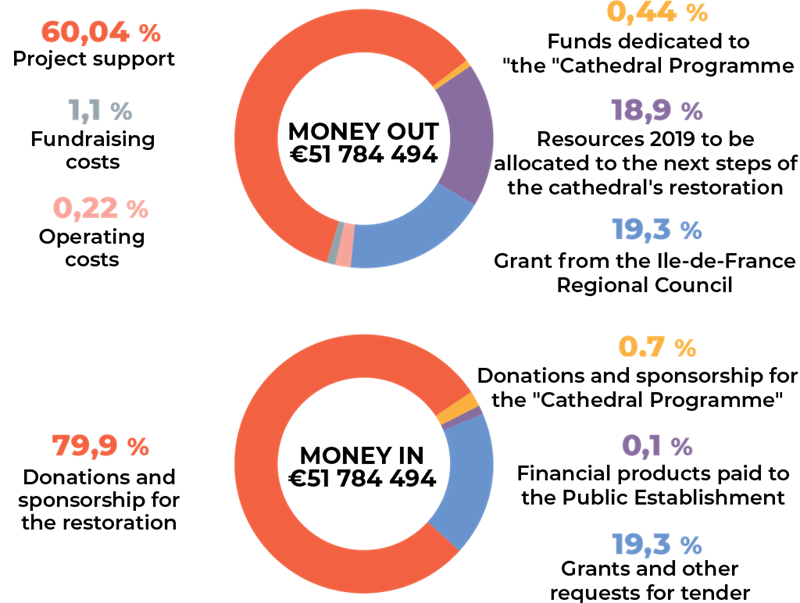 Treasurer's comment on the 2019 accounts
The Cathedral Fund collected 51.8 million euros in 2019.
More than 21.1 million came from individuals, companies and foreign states, 20 million from major patrons and 10.2 million from local authorities (including 10 million from the Ile-de-France Regional Council).
In addition to the funds collected for the restoration of Notre-Dame de Paris Cathedral, the "Interior Arrangements Programme" promotes the Cathedral's cultural and spiritual activities.
€374k were collected and €96k granted to two projects, mainly emergency aid for the private Sacred Music School, as well as the facilities of the Saint-Germain l'Auxerrois church, which now hosts most of the Cathedral's liturgies.
At the end of the year, there remains a dedicated fund of €228k. 31 million has been committed for the first work to make the Cathedral safe.
Fundraising and operating costs represent less than 1.4% of the work (€681k). At the end of the financial year, 9.8 million euros remained from the collection received from the general public and 10 million in subsidies to be paid as part of a new phase of the restoration project.
Pending calls for funds from the State, the donations received are placed in a deposit account and have generated €34k in financial products also to be paid.