Garnier-Thiebaut pays over €40,000 to the Fondation Notre Dame
On Tuesday 30 November, Garnier-Thiebaut presented a cheque for 41,400 euros to the Fondation Notre Dame at Rue Barbet de Jouy for the restoration of the cathedral. Here is a look back on the exceptional commitment of this textile factory, located in the Vosges.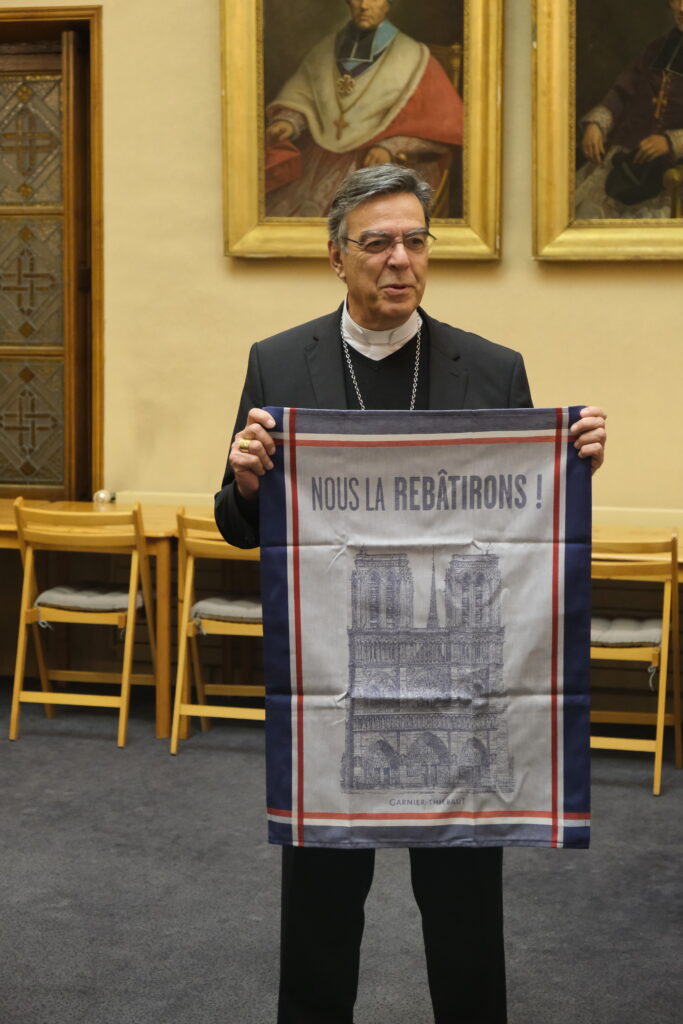 Mgr Chauvet and Mgr Aumonier received from Paul de Montclos, CEO of Garnier-Thiebaut, this historic gift for the company which promotes local and French know-how. The day after the fire, Paul de Montclos and his teams mobilised to help rescue Notre-Dame: "We couldn't do nothing", he said from the bottom of his heart, on seeing such a tragedy. Two weeks later, the tea towel "NOUS LA REBÂTIRONS !" ("WE WILL REBUILD IT!") was born. The unique item, featuring an effigy of the cathedral, celebrates the momentum that sprouted from the ashes of the spire and roof, tragically destroyed by the flames.
In April 2019, we made a commitment to provide assistance in line with our means and our know-how. In a fortnight, we managed to create, weave, ennoble and make a solidarity tea towel that appeals to the generosity of the French people and all our customers around the world. This is a great collective commitment that underlines our ability to stay united, our love for French heritage and the unconditional commitment of our 220 staff to causes that are close to our hearts.

Paul de Montclos, CEO of Garnier-Thiebaut
Adding in the prints, 4,000 tea towels have been sold around the world – a success whose profits, built up over two-and-a-half years, will be fully used in the reconstruction of Notre-Dame.
© Photo Fondation Notre Dame